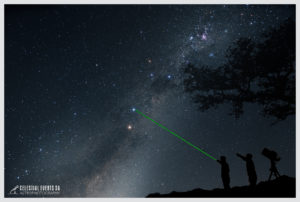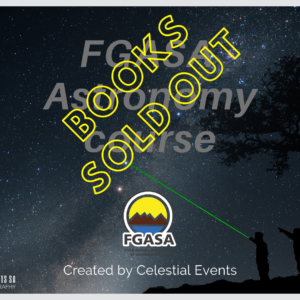 The new and updated FGASA Advanced Astronomy Qualification is now available. The aim of the qualification has always been to prep field guides with the necessary skills to deliver an entertaining and factually correct star gazing experience as part of every guest's stay. The night sky has always fascinated people, and it will continue to do so, especially during the current global situation. The dark skies over reserves are the perfect place for guides to educate guests about the stars and sow the seed of interest that can be taken home with them.
Although self-study of the manual and workbook is possible, we strongly recommend that guides interested in bettering themselves with this qualification consider external training.
The new syllabus has been designed by Professional Field Guide, Trainer and Assessor, Ben Coley and his company, Celestial Events SA. Ben has been a FGASA registered guide for close to 15 years and has always harboured a passion in the stars. After many years of sharing this knowledge with his guests, Ben contacted FGASA and suggested that the industry would benefit from a better knowledge base pertaining to the night sky. We loved the idea and commissioned the writing of a manual. That manual has since be revamped and is now available to any FGASA field guide with at least an Apprentice Qualification.
The new manual is chocked full of fascinating information and rich cultural stories about every aspect of astronomy. From how to deliver a safe and comfortable star gazing evening, to the mythologies behind the constellations, the manual covers everything a guide could ever wish to know. Being written by a guide, the manual also attempts to arm candidates with the ability to not only identify celestial phenomena, but to host in depth discussions pertaining to their cultural and environmental influences.
Ben's company, Celestial Events SA, is now running on a full-time basis offering a variety of services to tourists, guides, safari lodges and guest houses; not to mention local schools and corporate groups. In addition to travelling to lodges and delivering exciting 'Night Sky Safaris' with their 10 inch Meade GPS telescope, Celestial Events SA also offers various levels of training based on the FGASA Advanced Astronomy qualification.
The training takes the form of a series of lectures and practical sessions, all designed to introduce learners to the night sky. It is important for guides to able to locate and explain what they are looking at, and thus even the most basic training package focuses on practical skills. The lectures cover various topics with a particular focus on astronomy's cultural and environmental impacts.
Thanks to Ben's extensive knowledge and experience of the industry, the training has been designed to work around lodge logistics and can therefore be conducted between activities so as to not cause disturbance in the lodge operations.
Currently, Celestial Events SA offers the following services for field guides and lodges, but is happy to design bespoke training on request:
1 Day Introductory Training
• 1 x overview lecture.
• 1 x practical session with our 10" Meade GPS telescope, laser pointer and binoculars.
• Constellation Charts of the constellations covered.
4 Day FGASA Advanced Astronomy Training
• Daily lectures on topics such as Astronomy in Culture, the Lifecycle of Stars, the Moon, Planets and Shooting Stars.
• Nightly practical sessions focusing on visible zodiacal and other prominent constellations as well as the planets and Moon with our 10" Meade GPS telescope. (Phenomena viewed will depend on date and time).
• FGASA Advanced Astronomy Manual & Workbook
• Workbook Workshops
• Constellation Charts of the constellations covered.
FGASA Advanced Astronomy Special Sitting Exam
• 1 additional day required.
• Marking on site (marks will be dependent on moderation).
FGASA Advanced Astronomy Assessments
• Advanced Astronomy Theory exam (75%) and completed workbook required.
• 45-60mins per candidate.
• At least 1 other person present.
For more information, please contact FGASA or Ben Coley and Celestial Events SA on:
Email: celestialeventssa@gmail.com
Cel: 079 575 0900
Facebook: Celestial Events
Instagram: @celestial_events_sa