Your career is waiting
The Field Guides association of Southern Africa is committed to the training of gold-standard guides and ensuring that world-class hospitality, professionalism and safari experiences are delivered to any local or international tourist set on enjoying our incredible natural heritage. If you are a qualified Nature Guide looking for employment or an employer looking for top-notch guides, you've come to the right place!
Have a look at our job space below and see if any of these postings are the right fit for you!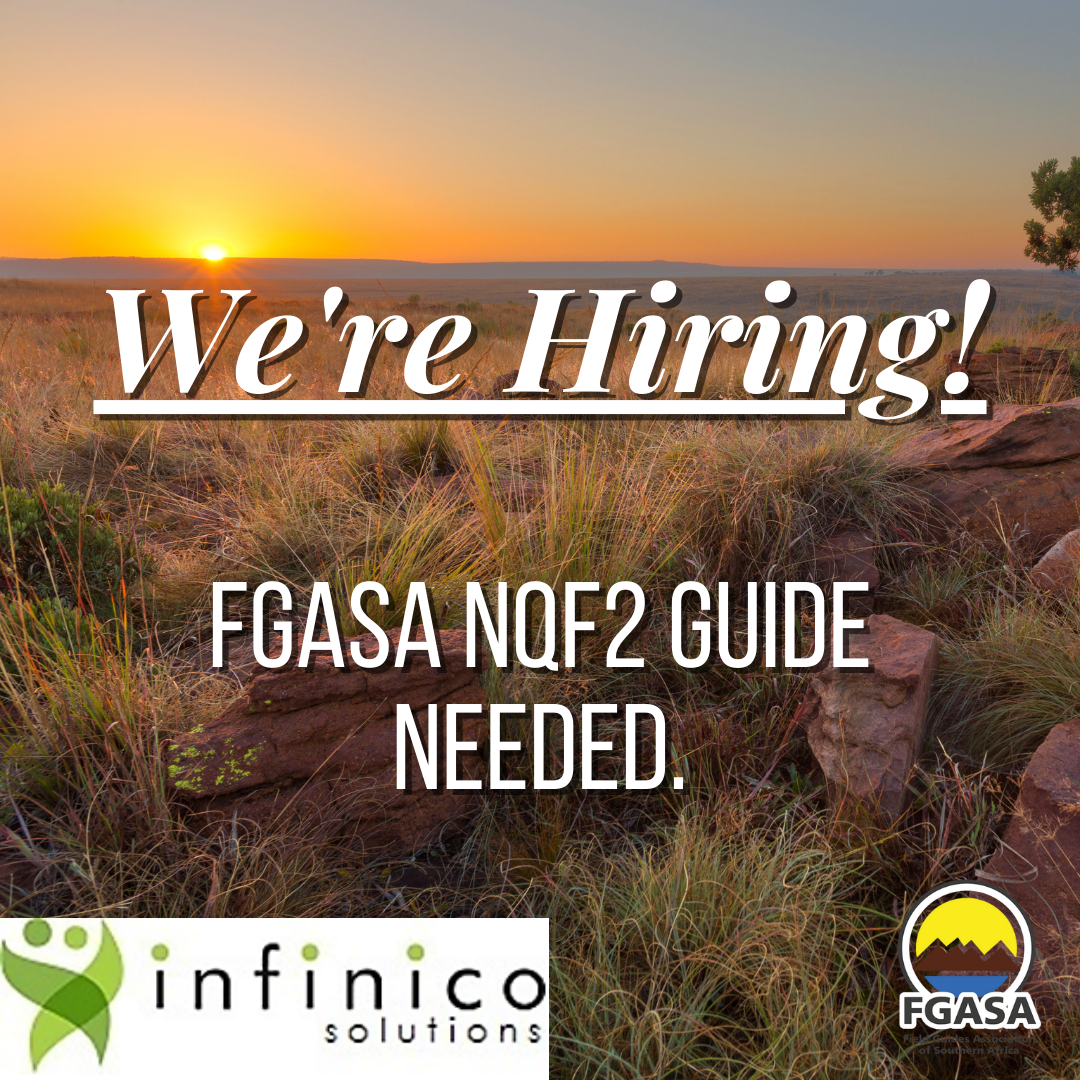 Field Guides (NQF2) needed!
Location: Kromdraai, Krugersdorp/Lanseria area (Gauteng, South Africa)
Person must have Gr12/Matric

Must have FGASA Nature Site Guide NQF2

PrDP Licence code B (08)

At least 1-2 years' experience.

Traceable references

No criminal record

Team player

Good communication skills

R 7 500 basic, Accommodation included, 1 Free meal per day (lunch)

6-month contract, thereafter the individual will be considered for permanent employment.
Please send your CV, ID, and proof of qualifications to cv@infinico.co.za or bonnie@infinico.co.za please see Infinico Solutions job ad here.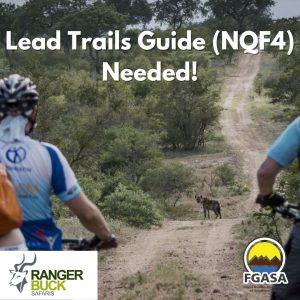 Attention all mountain biking FGASA Guides!
Ranger Buck Safaris has an awesome opportunity for you, leading a group of mountain biking enthusiasts on a luxury, five-star mountain biking experience through a big five reserve in the Hoedspruit area.
Please see the details below:
• Minimum FGASA Field Guide NQF4
• Trails Guide NQF4 (lead trails guide)
• 5 years experience working as a lead trails guide in similar lodge and/or reserve environment
• The guide should have mountain biking experience, leading guests through big five areas
• Must be comfortable with technical and mechanical aspects of mountain bikes to assist guests with minor equipment issues in the field (fixing punctures, loose chains, brake tightening…etc)
• Basic repair tools will be provided
• Own mountain bike is preferred but a bicycle can be arranged if you don't have one
If you or someone you know meets the above requirements send your CVs and cover letters to: archie@rangerbucksafaris.com
Happy cycling everyone!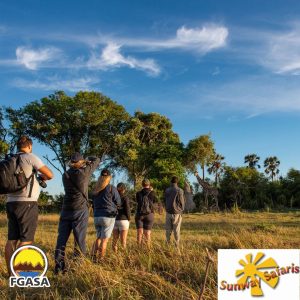 Sunway Safaris operates small group mobile overland safaris throughout Southern Africa. With 29 years in overland operations we have offices in Johannesburg and Maun (Botswana).
Sunway guides have a wide range of opportunities, from leading bush walks in the Okavango to open 4WD game drives in the Botswana national parks, from exploring the Namib desert to dhow sailing off Mozambique coast, from Drakensberg hikes to Lower Zambezi canoeing – we offer the best safari guiding opportunity!
We are currently looking for young, dynamic individuals with strong personalities and the ability to work under the pressure of client demands. We will consider both experienced tour leaders and newly qualified guides. Gain guiding experience with "on the road" training provided. Join our dynamic company and work as part of a team of two guides on each truck. German language skill an advantage but not essential but good English communication skills a must.
Please also see employment section on our website www.sunway-safaris.com email a brief CV to hr@sunway-safaris.com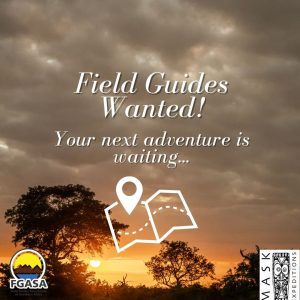 Mask Expeditions is an adventure travel company specializing in small
group safaris. We offer a variety of exciting adventure tours – including
walking, hiking, cycling and specialist game viewing safaris.
We are currently looking to hire guides able to lead a variety of tours
throughout Southern Africa.
Candidates need to be confident and dynamic individuals, with good
communication skills passionate about guiding and South Africa.
We will consider both experienced tour leaders and newly qualified guides.
Minimum requirements are the following:
• Candidate must be at least 21 years old
• Be a registered FGASA field guide or DEAT registered tour guide
• Candidate must have a valid 1st Aid certificate
• Driver's license – C1 (code 10)
• Valid PDP
• Genuinely fit individuals who can hike and cycle if required
• Willing to travel and work under pressure of demanding clients
• Experience in camp craft and the ability to prepare meals for groups
Please send your CVs through to Peter Albert on: operations@maskexpeditions.co.za