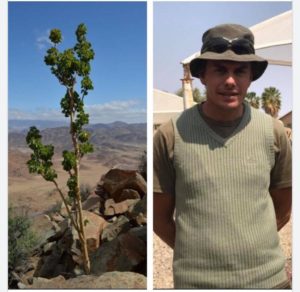 Pieter van Wijk
Seeing that Pieter van Wyk works in an area that is not easily accessible electronically, we turned to the man that trained him (and whose wife taught Pieter in junior school) Louis Willemse, for some insight into Pieter's most recent plant discovery.
Pieter spent a large part of his early youth with his grandmother who had a farm on the Orange River near Alexander Bay. She transplanted her love of the desert, its plants' animals, and people's culture to Pieter from an early age.
On weekends, when the other children were playing video games, Pieter would be exploring the dunes, lost in his own world, in tune with Nature and the early hunter-gathers who roamed this country. Although people called him a loner, he had many friends among the animals and plants that eked out a living in this desert which has seldom received more than 25mm of rain a year. ( If there was real rain the school closed to allow the children the opportunity to play in the mud puddles).
I met Pieter while helping the teachers conduct a leadership program and I clearly remember this youngster peppering me with questions, specifically as to why plants had scientific names. I next saw Pieter when he attended a FGASA course with me in Kamieskroon in 2009. Pieter was the life and soul of the course. He knew all the birds by song and all the plants by name. During a brief downpour during lectures, Pieter disappeared and came back with a load of rain frogs!
Pieter left high school to become a missionary in Angola and taught children who had been maimed in landmine accidents. In the three years that he did this work, he learned to speak Portuguese and studied the local Fauna and Flora.
On returning home, a vacancy in the Richtersveld National Park was to change his life irrevocably.
Currently, when not looking for new species, Pieter spends his time doing patrols; operating a nursery; promoting Nama culture; conducting school programs; assisting post-graduate students from the University of Berlin with their projects; conducting hiking tours, and being a river guide. In his spare time, he explores the area and has already found more than twenty new species. The current find that is getting all the attention from the Genus Othonna that is part of the Family Asteraceae, a daisy family. This plant could be named after the finder, but the final decision is taken by a committee.
When asked how he finds so many new species, Pieter answered "Often by accident, but this one was sheer luck. However, when you do as much exploring in the region as I do, I tend to get lucky often".
What makes the Richtersveld special? The stark curves of the rocks eroded by the relentless sun, the unshrouded visibility of the geological structure of the land, and above all the extraordinary survival techniques evolved by both plants and animals, make this wonderful, unique stretch of arid land endlessly fascinating.
This young man, who at school only spoke broken English, now writes papers and presents seminars for international audiences in that language.Pieter is working toward a Masters in botany through the University of Berlin.
His motto: "Live life to the full" is certainly one that he is living daily.