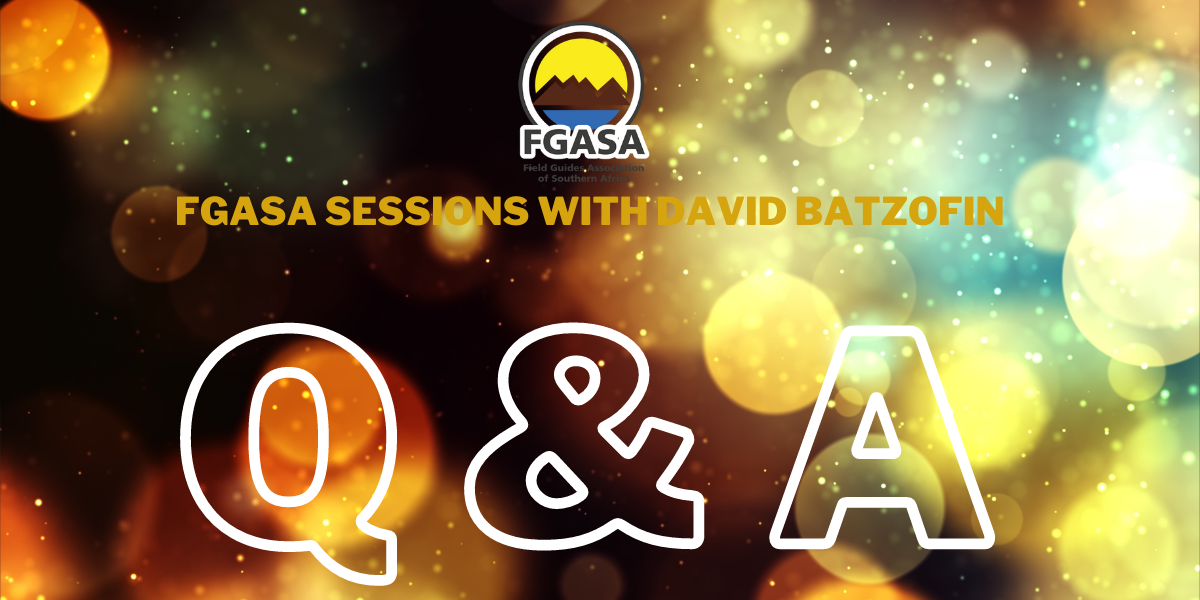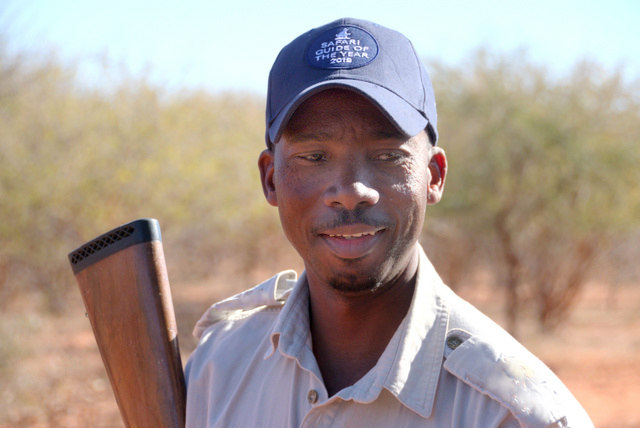 Julius Mkize
Julius was one of the finalists in the Safari Guide of the Year 2019 and he walked away as the proud recipient of the Ambassador Award. He is one of the highly trained FGASA guides working in the industry currently.
D.B: Tell me your name and your FGASA qualifications?
J.M: Julius Mkhize and I have a FGASA level2 full trails guide
D.B: How long have you been involved with FGASA and what made you join the origination?
J.M: I've been with FGASA from the inception, my reason for joining the organization was because of the professional standards they were going to set for the guides in the country, and making them marketable in a very competitive environment.
D.B: Tell me about the Safari Guide of the Year 2019? What did that involve?
J.M: Safari guide of the year covered the whole spectrum of guiding that we experience on daily basis.
D.B: Did being a finalist make a difference to your guiding career?
J.M: Just being part of the competition was recognition on its own for me that people out there see the good that I do in the industry and it made me enjoy it more than before.
D.B: Tell me about Julius in matric?  Did you know what you wanted to be once you started working?
J.M: Julius in matric was not sure of the road ahead what to do but deep down I knew whatever career path I was to take would have been outdoors.
D.B: If you ever had to leave guiding, is there another career path you would like to follow?
J.M: God willing I'll love to start my own game farm.
D.B: With the pandemic, there has been a surge in online activity of various sorts. Have you taken part in any and what has that experience been like?
J.M: Not much at first had few clips of me and the family exercising but I've kept it low-key.
D.B: If you could sum up your career in one sentence, how would you do that?
J.M: awesome!!!
D.B: How are you currently keeping yourself occupied?
J.M: I'm busy helping my younger daughter with her school work as well as attending to our house maintenance as I don't have much time for that.
D.B: What would you say to someone who is interested in becoming a field guide but does not know where or how to start? How important would a FGASA qualification be to someone looking for employment?
J.M: I would advise them to get their FGASA qualifications as it will make their lives easier in acquiring work, but also be frank with them that there's a lot of sacrifices that you'll have to make and lots of hard work to stay relevant and on top of the game.
D.B: What words of encouragement do you have for those who wish to follow a similar path to yours?
J.M: Follow your dreams let nature takes its cause and enjoy what you do, the day you feel that it's no longer enjoyable but its work is the time to quit.
Laetitia Cronjé
Laetitia Cronjé is the founder and chairperson of Campfire Academy, an ecotourism and conservation training centre. As 2020 winds down, she took the time to share thoughts about the year and how COVID-19 affected her and working in the training industry.
D.B: Tell me your name and do you have a FGASA or University qualification?
L.C: I'm Laetitia Cronjé and I'm a Professional First Rifle Trails Guide and a FGASA instructor and assessor. I also hold a BSc (Zoology & Botany), BSc (Hons)(Environmental Management), and a Postgraduate Certificate in Education (Natural Sciences).
D.B: Tell me about Campfire Academy? How and why was it started and is there a connection/ affiliation to FGASA?
L.C: The Campfire story started with my father and mother, Tinus & Suegnette Cronjé. In 1999, they started bringing groups into Olifants West Nature Reserve for a variety of nature-based educational experiences. They welcomed people from all walks of life into their programs – school groups, church groups, students, adventurers – believing that everyone has an innate desire to connect with nature and should have the opportunity to do so. I later joined them in this mission and in 2007 Campfire Academy became a FGASA and CATHSETTA accredited training provider. Since then, we have flourished, offering various accredited FGASA training programs but also applying the FGASA curriculum in other training settings for diverse nature-based career paths.
D.B: The campfire Academy motto is Learn, Understand, and Inspire. Tell us about the thought behind these words?
L.C: Our motto represents our educational approach and aims. Learning produces understanding which ignites inspiration. We guide students on a journey that hopefully takes them to an a-ha! moment of awareness in the presence of Mother Nature. Nature is really the one doing all the work; we're just facilitators.
D.B: Are you working with students from disadvantaged communities? How are you enabling them?
L.C: We work with many people who have been affected by historical exclusion and have close ties with organizations that are working to redress the imbalances that persist today. We sponsor selected candidates in our FGASA courses and provide specific upskilling opportunities in partnership with local nature-based organizations. We are also cognizant of the fact that people from disadvantaged groups often face specific and unique challenges that must be considered and mitigated. Merely providing financial assistance isn't always enough. Hence, we strive to provide additional or remedial development and support where necessary to ensure that sponsored students are fully enabled to make use of the opportunities we are granting.
One of our proudest examples is our continuing relationship with Lewyn Maefela, Programme Manager of the Bush Babies Environmental Education Programme. Lewyn was our first female sponsored graduate and from the start, her goal was to reinvest her learning into her community. She leads an organization that reconnects people with their natural heritage, educates on the ecological and economic value of conservation, and creates employment opportunities. That is a shining example of Learn – Understand – Inspire.
D.B: How are Campfire Academy and FGASA going be working together in 2021?
L.C: We are always open to assisting FGASA in expanding its reach and impact, particularly where it relates to improving access to training. FGASA has made quite a leap this year in taking training online and we very enthusiastically participated in this move. In addition to online theory courses, we also created platforms for online exam revision and online theory learning for self-study students. We believe 2021 will present further opportunities for innovative online offerings and we look forward to identifying and developing those opportunities in cooperation with FGASA.
D.B: Tell me about Laetitia in matric?  Did you know what you wanted to be once you started working?
L.C:  My love and interest in nature were instilled by my father during childhood and I considered a career in veterinary sciences. Unfortunately, the barriers against women pursuing a science career were still very firmly in place and my educators at the time discouraged me from this choice in favour of something more 'appropriate'. I tried a BComm direction, worked at a mining company for a while, and eventually landed in the IT sector. None of these fields and jobs were truly satisfying because I had in fact known what I wanted to do but had been told to forget about it. Thankfully, I found my way back to nature and now I'm living my passion. From this experience, it is very important for me as a trainer and educator to create a space where students' interests, abilities, and goals are acknowledged and encouraged.
D.B: If you ever had to leave this industry, is there another career path you would like to follow?
L.C: I will always be involved in a nature-based field, and preferably one that includes conservation and education. If I retire from field guide training, I would very likely move towards doing more research and education in the sphere of environmental protection and sustainability.
D.B: With the pandemic, there has been a surge in online training courses of various sorts on offer. Does Campfire Academy offer any and if so what and how have they been received?
L.C: Our first online venture was a series of free, live broadcast revision sessions for self-study FGASA students ahead of the national sitting in June. We then presented two online Apprentice Field Guide NQF2 theory courses. We have discontinued the full-time online theory courses in favour of online tutorials that bridge the learning gap for self-study students. Before, self-study students had only the learner manuals as study material and were entirely reliant on their own understanding. With our tutorials, self-study students have access to full theory lecture videos, practical videos that illustrate the theory, a variety of study aids, and revision exercises. The only difference between this and our online courses is that the tutorials do not include full-time trainer contact. Instead, we present a scheduled live revision webinar.
All these platforms were created using Facebook's Social Learning Groups. We creatively applied the existing tools and features to build an easy-use learning portal in a familiar online space, with very little cost that ultimately translates into greater affordability for the student. These initiatives are driven by our desire to increase access to quality learning, especially where people do not have the time or budget for a 90-day, full-time course. Our alternatives improve the learning experience of self-study students, improves their chances of first-time exam success, and accelerates their academic and professional progress.
D.B: If you could sum up your career in one sentence, how would you do that?
L.C: Curiosity leads to knowledge.
D.B: How are you currently keeping yourself and the Academy occupied?
L.C: Training at Campfire continues. We are conducting practical training and assessments with self-study students who have successfully completed the theory exams. We are conducting mentorships with trails guides who want to accrue hours and encounters. We are actively promoting and managing our online tutorials and recruiting for the next Apprentice Field Guide course in 2021. I am also in the process of submitting an application to become a registered environmental impact assessor and continuing my postgrad studies in environmental management.
D.B: What would you say to someone who is interested in working in this industry but does not know where or how to start? How important would a FGASA qualification be to someone looking for employment?
L.C: A FGASA qualification has become a well-established industry standard. As the job market becomes more competitive guides are increasingly expected to advance their qualification beyond the Apprentice level.
If you are considering a career in ecotourism, I would highlight that your passion for nature should ideally extend to sharing that passion with others. Your knowledge and skills should be employed to reveal, excite, educate, and connect. I would also point out that the safari industry is not the only sector where a FGASA qualification is relevant and desirable. We have trained many graduates who work in diverse fields from ecotourism and conservation to veterinary sciences and documentary filmmaking. The learning and skills comprised in a FGASA qualification could build on an existing career or be combined with other interests – even if they seem completely unrelated at first – to create a completely novel career path.
D.B: What words of encouragement do you have for women who wish to follow a similar path to yours?
L.C:  To anyone that has faced barriers or exclusion in their life based on who or what they are, the best news is that Mother Nature welcomes everyone. You might well encounter people and systems that do not recognize your value. That is their loss and it doesn't have to be yours. You have value, you have something to offer to the world, you can do it. And if you still feel unsure, whoever you are, I invite you to join our tribe and let Mother Nature prove it to you.
Johan Marais
FGASA is currently assessing the content of their snake handling course as well as the introduction of an SKS Snake course. And who better to get involved than the highly experienced and entertaining Johan Marais from The African Snakebite Institute. Johan took time from a  busy schedule to share his plans for these courses with the intrepid David Batzofin during a break at a recent venomous snake handling course.
DB: Tell me about yourself and your background?
J.M: I grew up in Montclair in Durban, where I encountered the odd harmless snake in our garden and started catching snakes at the age of seven. Much of our holidays were spent with relatives on farms in Grootveli, Ermelo, and Stella where there was a fair amount of snake activity. Most snakes were killed on sight. I have had a checkered career from being a drug squad cop, working at both Fitzsimons Snake Park and Transvaal Snake Park, started a newspaper in Heidelberg, farmed crocodiles for eight years, and ventured into retail – I started Fascination Books and Incredible Books in 1994 and grew the group to over 50 outlets. The African Snakebite Institute was started ten years back and currently takes up most of my time.
D.B: Have you always had an interest in reptiles?
J.M: Yes – I soon realized that there is very little information on reptiles and amphibians and some fifty years later, after having written about a dozen books, I have come to the conclusion that we know a little more but not a lot.
D.B: I assume that as a youngster, your room might have contained one or two reptiles of some description?
J.M: My late mother was not keen on snakes but my late father was very supportive. In my late teens, I had Mambas, Vine snakes, Boomslang, and Cobras in the lounge and Gabriel the crocodile in an enclosure in the garden.
D.B: Why do many people have an innate fear of snakes?
J.M: Interesting question – it is partly genetic and largely an acquired feared. Snakes have always suffered from a bad press, starting with the bible and made worse by the likes of the Afrikaans naturalist and author Eugene Marais who used his vivid drug-induced imagination when writing about them.
D.B: What do you hope to achieve with FGASA and their updated snake courses?
J.M: I have been keeping a close eye on what FGASA has been presenting to students in respect of reptiles and it is greatly lacking with a fair amount of outdated information. It needs a total rehash and we would like to get it up to date, far more comprehensive and accurate.
D.B: What will the SKS Snake course entail?
JM: We are very excited about this project and still working on the concept. Those successfully completing this course will have excellent knowledge of the snakes of Southern Africa and will have the necessary skills to differentiate between snakes that most folks cannot distinguish from one another – like the various purple-glossed snakes, the Natal Black snake, and the Stiletto snake. We will also include a comprehensive first aid for snakebite section.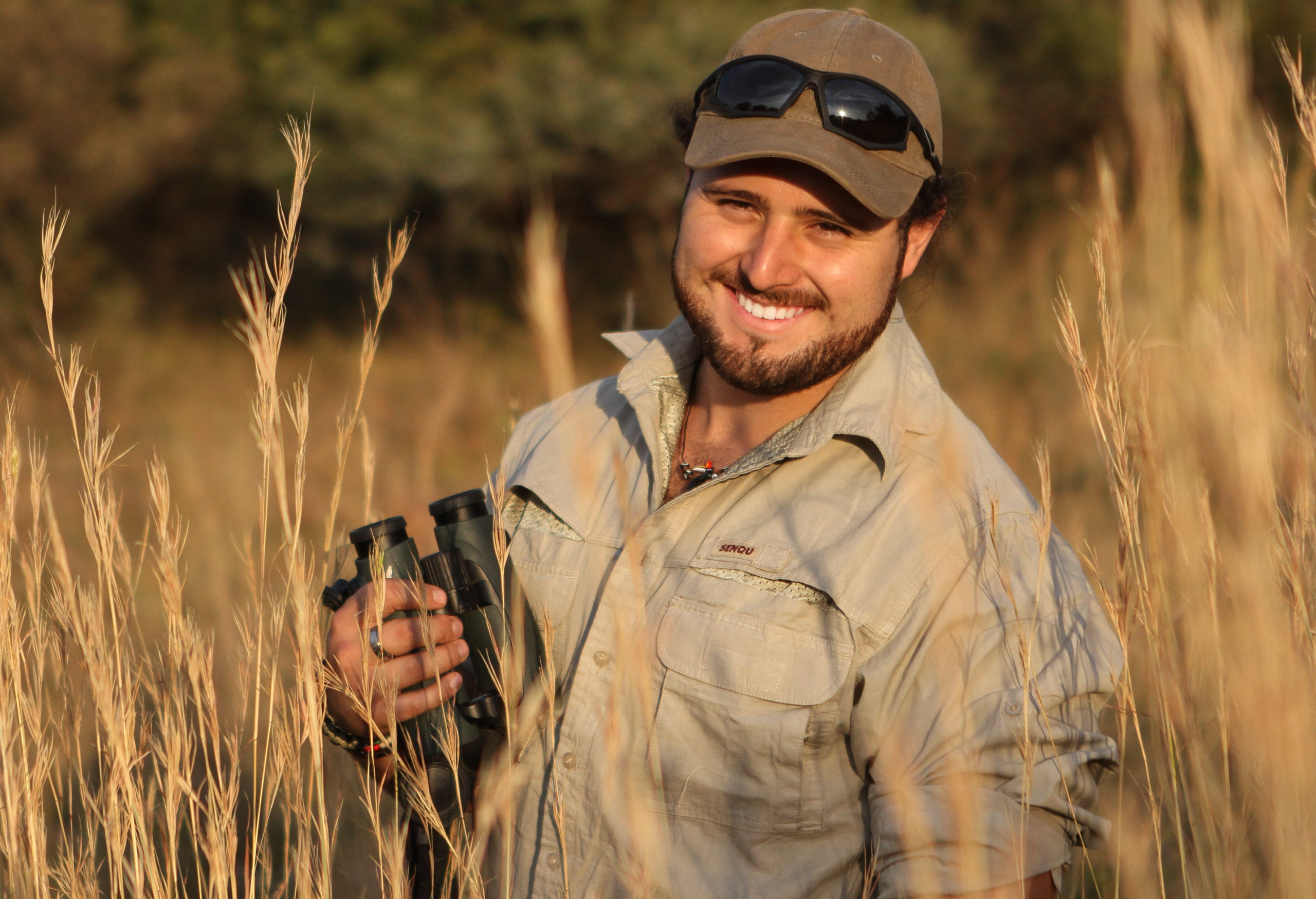 John Kinghorn
John Kinghorn is an example of how FGASA has played an active role in a career path. John started out as a junior within the organization and has gone on to run his own birding specialist company, Expedition Birding, specializing in global birding and wildlife tours.
D.B: Tell me your name and your FGASA qualifications?
J.K: I'm John Kinghorn, a 25-year-old naturalist, and obsessed birder! I currently hold an NQF2 Apprentice Field Guide and National Bird Guide Qualification, which I studied part-time as both self-study and with the practical aid of Bhejane Nature Training, whilst concurrently tackling an LLB through the University of South Africa.
D.B: How long have you been involved with FGASA and what made you join the origination?
J.K: I was first made aware of FGASA when I was 13 – It was the first time that I learned the difference between a game ranger and a field guide. Ever since I can remember I had envisaged myself in a khaki uniform in hot pursuit of all thing's biodiversity. This was fueled by a twofold interest: firstly, an overall love and passion for nature and conservation instilled in me by my parents and family, and secondly, a much deeper urge to share with others this passion and love for the natural world that ran so deep in my veins. Once I found out that guiding was the profession that could enable me to do this, I tried my best to find out how I could ultimately pursue this career and soon stumbled upon FGASA (2008).
D.B: What was it like being a junior member and what did that involve?
J.K: Becoming a junior member of FGASA provided me with an integral base on which I could stabilize not a career choice, but a passion for the natural world. I was able to garner a deeper understanding of an array of different topics that I had previously not taken much interest in as a youngster (trees, grasses, astronomy, etc.) It involved the completion of a very child-friendly workbook and many hours reading through my field guides to get to grips with some stuff, but it all certainly paid off in the end. I think this junior program is particularly beneficial to youngsters in that if they do opt to pursue a career in field guiding, that they then already aware of some of the procedures they will need to undertake when studying for a FGASA qualification.  It helps provide wood to a burning fire, maintaining and fueling their interest for long enough for them to consider guiding as a career, or at least a career that is centered around the environment or conservation.
D.B: Tell me about John was like in matric? Did you know what you wanted to be once you started working?
J.K: The John in matric was remarkably similar to John that was in junior school. I have had the same vision and passion for as long as I can remember, the only difference about John in matric was that he had a somewhat more focused view on the direction and the way forward. In matric, I started to think about the possibility of undertaking the challenge of a university degree as well, but one which would supplement my passions and interests, yet I still found myself somewhat conflicted and not able to find a path in tertiary education that made me 100% comfortable (even though Law was a top contender). I thus decided to take a gap year by traveling southern Africa in a quest to record and see 800+ species of bird within the southern African sub-region within the space of a calendar year. This "Big Year" afforded me the opportunity to further grow as an individual and also become content with what I had envisaged for myself in terms of tertiary education.
D.B: You recently completed an LLB…why? Is this to have a career to fall back on?
J.K: Law has run in my family for years (both my mother and sister are practicing advocates), so there was a natural interest that had formed. I knew that I wanted to study at university if the opportunity were to present itself to me (which I am very grateful that it did), and so I sat down and began to think about what degree would best equip me going forward in life, regarding general life skills but more importantly, skills which would help me make a difference in conservation. I knew that my talents didn't lie in science, but my passion for conservation is one of the strongest qualities that I possess and the one that I am most proud of; one which combined with the correct legal skills would go a long way in helping me fight for the preservation of our natural world by taking a different approach. I would be lying to you if I said that part of my initial thinking was to have something to "fall back on" one day if things didn't work out, but I also believe that success in life is not measured on whether or not you have a certificate hanging on your wall – or how many you have for that matter – but rather whether you have the passion and drive for whatever it is you feel strongly about. If this means you need to attend a university, then go for it. If it means you seek other tertiary education, then go for it. I do not see myself working as a legal practitioner, but I do see myself using both my degree and guiding qualifications to best maximize my chances of making a difference, and that's what I'm most passionate about.
D.B: With the pandemic, there has been a surge in online conferences of various sorts. Have you taken part in any, and what has that experience been like?
J.K: The world was standing on the edge of a virtual precipice, waiting to be pushed over the edge and into waters which are new and daunting for us all. COVID-19 was the push that was needed to send us into the start of a virtual age which has proved beneficial to a lot of people, companies, and organizations. Personally, I have loved the various webinars that have been hosted by BirdLife South Africa, FGASA, Wild Eye, and some of our "friend-petitors" (friends who are also competitors) in the avi-tourism industry. The information that people were able to absorb through both these and Instagram and Facebook live sessions, where a lot of these companies and organizations poured hours of expertise and resources into, is incredible and an opportunity that I am certainly glad that we didn't miss out on. We took part in this global movement to "share" during these challenging times by hosting Instagram live sessions ourselves, where we spoke to like-minded people involved in the tourism and conservation industries as we tried to keep people's minds on tourism and the fact that we would soon travel again.
D.B: How important is it to have an indigenous garden to attract birdlife?
J.K: Important, but not crucial. There are also many alien invasive species that attract a host of birds as well, but obviously, I would advise readers to do their best to maintain a high level of indigenous plants in their backyards (support local!) What works particularly well are trees and/or plants which flower, which in turn attracts nectar lovers, but also insectivorous species who prey on the insects attracted to the flowers. A personal favorite garden design of mine up here on the highveld is aloes, aloes, and more aloes. I am a sucker for indigenous aloe species (not hybrids) and our personal collection attracts plenty of birds each year.
D.B: You are currently the CEO and senior expedition leader for Expedition Birding, is this your dream job?
J.K: I spent just over 5 years working in the avi-tourism industry with a leading bird tour operator with the goal of traveling the world and seeing the unseen. The only reason I moved on from them was to chase our own dream and start our own story. This is not only my dream job but also my ultimate passion. I almost feel like referring to it as a job is wrong in some way, haha!
D.B: What would you say to someone who is interested in birds and birding but does not know where or how to start? How important would a qualification like SKS Birding be for a part-time birder?
J.K: Do not overwhelm yourself – we all had to start somewhere. I could write many essays on this topic, however, I would suggest to readers to start with the birds in their gardens, lodge, reserve, or province, before looking further afield. Do this by taking notes and photographs of birds you wish to identify, which you can then use as a reference once you have a moment (birds don't wait around!) You can help supplement this by joining some of the many Facebook groups which assist with bird identification; post your photos and learn from the identification process.
SKS and FGASA's other bird-related qualifications are fantastic and should definitely be something budding birders investigate. I would suggest starting with the regional bird guide qualifications, then working toward national, and the obviously SKS once one has gained the relevant experience and entry-level qualifications (advanced field guide). All of these qualifications are crammed with information which will not only help make you a better birder, but also help you inspire other birders as you find yourself able to tap into a far greater avian based knowledge base than you may have previously had, allowing you to understand much more, become more passionate, and share greater amounts of information to others.
D.B: If you could sum up your career in one sentence, how would you do that, and what words of encouragement do you have for those who wish to follow a similar path to yours?
J.K: A never-ending adventure. This line of work sees us having the opportunity to travel to a host of countries across the globe in our quest for birds and biodiversity, one which I am grateful for with every passing day. However owning and running our own business comes with its own challenges (as does any adventure), but we look forward to these and we appreciate the fact that ultimately these will help us grow as individuals, our company within the industry, and the experiences our clients will have when traveling with Expedition Birding.
If I had to give advice to anybody wishing to enter the avi-tourism industry, it would be to focus first on enjoying birding and growing yourself and your skills as a local birdwatcher. Once you feel like you have a relatively moderate level of knowledge and skill, start looking abroad to neighboring countries, and then continents. Taxonomically you will start to notice similarities, and eventually, you'll start to gauge a deeper understanding of the extent of bird families and their interconnection across the globe. These are skills that will form the fundamental building blocks of your international birding endeavors.