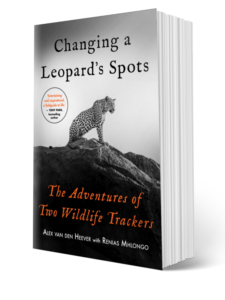 World-renowned wildlife trackers Alex van den Heever and Renias Mhlongo have spent more than two decades working together, tracking leopards and lions at Londolozi, jaguars in South America and grizzly bears in the United States.
In Changing a Leopard's Spots, Alex shares stories from his life with Renias, including the successes, failures, dramas, laughter, disappointments and highlights. As they experience numerous adventures, Alex and Renias learn to trust and rely on one another – both in order to stay alive, in a literal sense because of the sometimes dangerous environments in which they work, but also to develop a deep and meaningful relationship.
By challenging each other and learning from one another they break down social, cultural, racial and personal boundaries and obstacles that often divide South Africans; and in the process, the two men forge an unbreakable bond.
"Compelling and unputdownable! This book goes beyond wildlife to life, love, trust and community" – SELLO HATANG, Chief Executive of the Nelson Mandela Foundation
"This is a fantastic, fast-paced adventure and a story of brotherhood between a white boy and a tracker, a story of deep appreciation of African culture and wildlife" – GG ALCOCK, bestselling author.
https://www.motivationalspeaker.co.za/books.html
Published by Pan Macmillan SA